Effective oilfield automation using mobile routers
Lufkin Automation oil field division offer analysis, security and control solutions for rod pumping wells. These wells are often situated in challenging environments with extreme variations in temperature, dirt, dust and moisture. An oil field can consist of hundreds of pumps spread over large geographical areas. In order to create a robust and reliable communication solution for well control and management, Lufkin Automation has chosen to use the MRD industrial mobile router from Westermo.
The Lufkin-developed SAM Well Manager is the oil industry's most advanced technological solution for high-precision monitoring and control of rod-pumping wells. The SAM Well Manager allows the operator to optimise pump performance and reliability in a number of ways. Pump flow can be analysed, service and maintenance requirements can be calculated before the event of mechanical failure and energy consumption can be optimised.

The SAM Well Manager can be configured to stop the pumping process at low oil levels and when maintenance or service are required. The system also creates a complete action history that can be used for further optimisation.
The SAM Well Manager is connected to the pump's SCADA system. To remotely control the system a variety of technologies such as copper, fibre and radio links have previously been used. Although Lufkin's European division has further enhanced the system and new solutions using mobile networks have been developed. Lufkin have decided to use the Westermo MRD mobile router in a series of pilot projects, mainly for the European and Asian markets.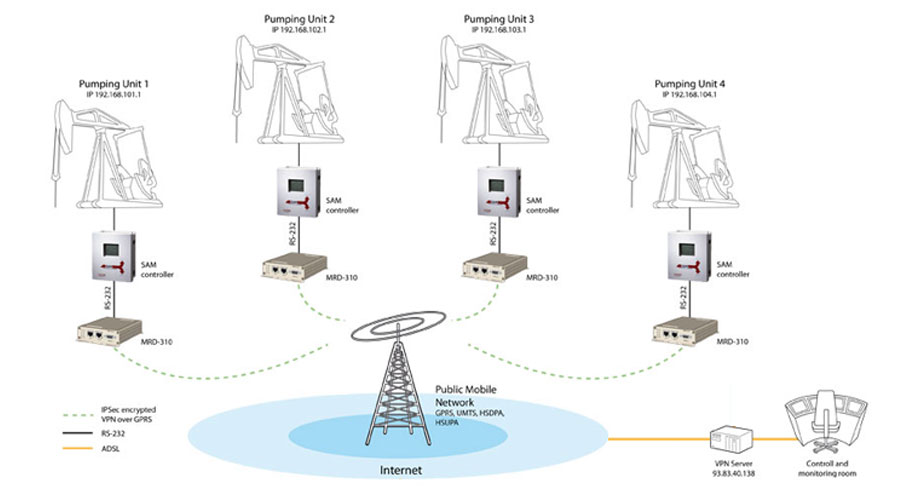 Individual oil pumps can be easily be monitored and controlled from a central control room using the MRD industrial router. The MRD is a 3G/GPRS router that allows a secure IP connection to be established using IPSec encrypted VPN tunnels.
The MRD mobile router is perfectly suited for this type of application in many ways. Its support for the wide variety of mobile standards used globally allows installations in practically the whole world. It also supports IPSec encrypted VPN tunnels which is a requirement for safety critical applications that use unsecure public networks (The Internet). Furthermore, the MRD industrial router provides a serial interface and serial to IP conversion, which is necessary to connect to the controller. The routers are also developed for extreme environments and can operate in temperatures from -40C to +60C.

Today, this application is installed in a number of pilot projects to demonstrate the potential for significant cost savings.
Download story as PDF