Westermo receives export award at annual Guldstänk gala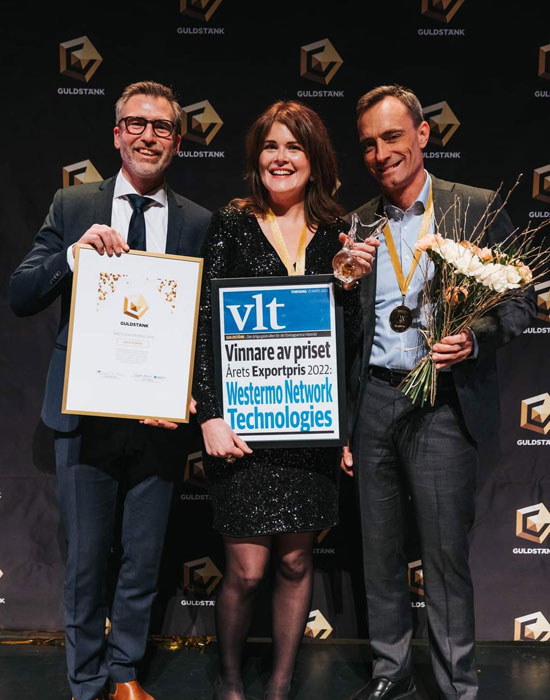 Johan Inestam, Elin Sandell and Erik Danielsson posing with the award for Export Prize 2022. Photo: Henrik Mill
Guldstänk is the biggest business networking event in Västerås, shining a spotlight on local companies and entrepreneurs. Westermo, alongside Woodsafe Timber Protection AB and Smartshake AB received a nomination for the Export Prize 2022. The export award aims to bring attention to the importance of exporting companies to the local economy by highlighting positive role models. Länsförsäkringar Bergslagen and the Chamber of Commerce Mälardalen formed the jury for the award.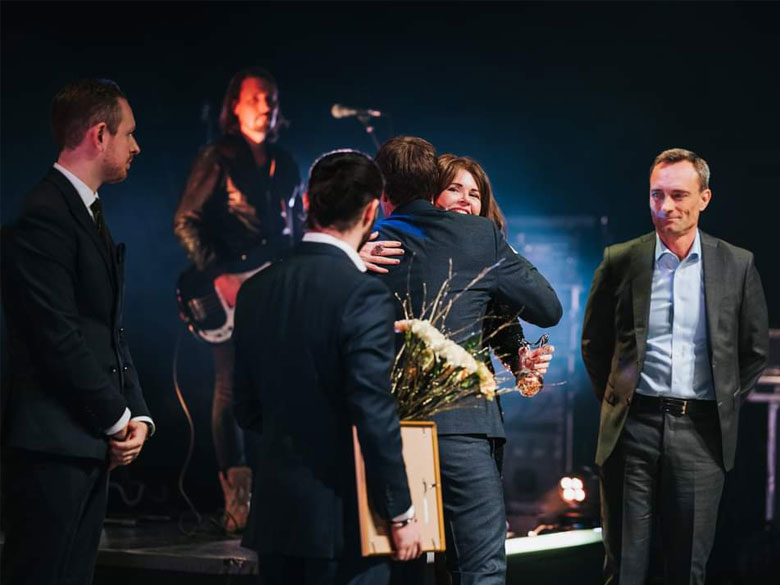 Elin Sandell and Erik Danielsson receiving the award on the Guldstänk stage. Photo: Henrik Mill.
Guldstänk 2023 was held in Västerås, Sweden on March 16th. Despite fierce competition, Westermo was able to win the Export Prize 2022. The award nomination read as follows:
In Kopparlunden resides a multinational company that for many has flow under the radar. Westermo Network Technologies, with sales and R&D in Västerås, designs and manufactures data communication solutions for mission-critical systems in demanding environments. The company has broken the billion SEK mark and more than 90% of its sales is exported around the world.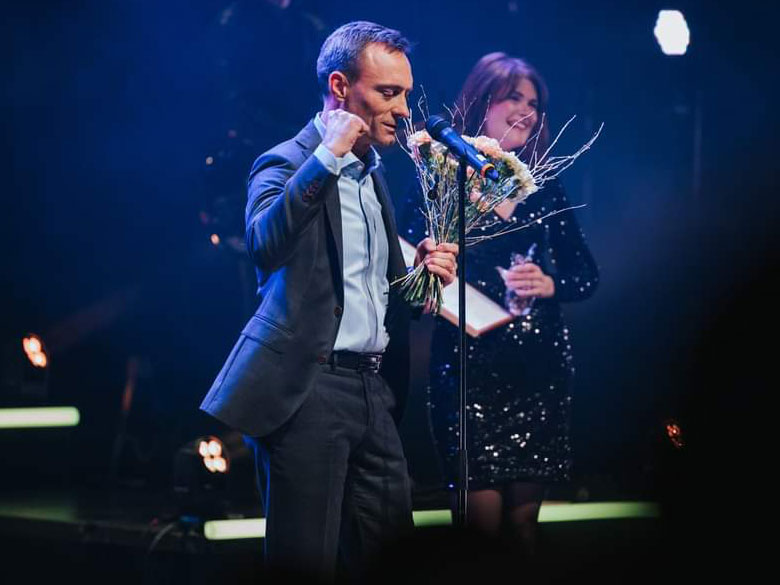 Erik Danielsson giving his acceptance speech. Photo: Henrik Mill.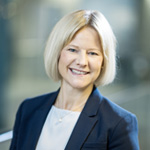 "I am incredibly proud of the whole Westermo team! Westermo could have remained a small family business located in the countryside outside Eskilstuna. But instead, the company had the courage to venture out into Europe in the 90s and later to the US, Asia and Oceania, by building up its own entities in all those places in order to serve our customers worldwide. That tradition still remains, and our team in Sweden as well as abroad keeps growing. We are proud, but we are not done!" Jenny Sjödahl, CEO of Westermo comments on the award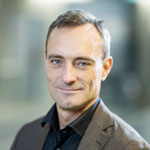 Erik Danielsson, VP of Sales added "I am honoured and grateful for us to have received this award. We owe it all to the hardworking employees and loyal customers of Westermo. This achievement would not have been possible without their dedication and support."