Westermo Inter-Carriage Link
Westermo's wireless inter carriage link (ICL) offers high throughput wireless connection between the carriages. The maximum speed is achieved by using 40MHz channel bandwith and making use of multiple streams of MIMO technology. Efficiently using multiple streams in a short distnace applica-tion is not easy, but Westermo has implemented a solution for this. That means that the customers can benefit from high speed and reliable links that offer average user data throughput of 360-380Mbit/s for each link.

The Westermo solution also implements a true cable replacement feature. This feature enabled users to make use of the onboard switches to built redundant and transparent topologies.
Prepared for redundancy and aggregation
It is possible to install one wireless bridge with two Westermo products. However, if redundancy is required there is an option to multiply the hardware and have two parallel wireless bridges between the carriages. The benefit of using a second Neratec wireless bridge as a backup is that the higher connection data rates and throughput provided by Westermo wireless link can be maintained even in case of a hardware defect.
The Westermo solution is WLAN based and offers several advantages over 3G and satellite communication. For example, in a tunnel where both 3G and satellite fail, WLAN can be deployed as the train to ground communication. WLAN based systems also makes it possible to deploy a privately managed network, which removes mobile operator dependencies, such as bandwidth allocations and mobile data costs.

Being WLAN based and complying with regulations, Westermo's train to ground solution does not required any costly licences for the operation.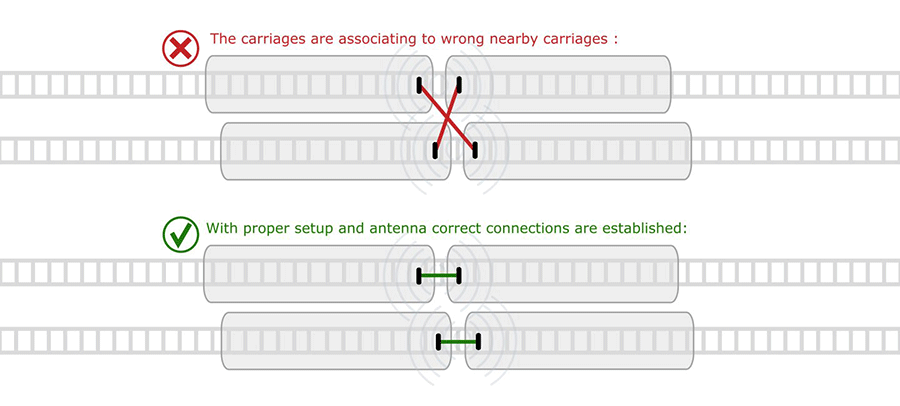 Installations and antennas
From carriage to carriage the signal is transmitted using the standard IEEE 802.11n data rates. Westermo RT products allows using 2.4 GHz or 5 GHz band. In order to prevent interferences between the other communication neworks employed within a train environment, the inter-carriage antenna system is usually configured to use the 5 GHz band. The use of MIMO antennas allows a higher data rates to be transmitted. With 3×3 MIMO antennas and 40 MHz channel bandwidth data rates up to 450 Mbit/s (380Mbit/s user data throughput) can be achieved. The directional antennas can be installed inside the carriage in a variety of ways. In order to achieve the best results the antennas must point to-wards each others and the distance between the antennas should be minimized. This increases the signal levels in comparison to interfering signals and with proper antennas allows the use of higher data rates thanks to multiple MIMO streams.