Legacy Dialup Modem Replacement using IP Broadband
For decades the use of dial-up modems was the most common way for devices to communicate over a wide geographical area. Modems could be GSM, Analogue (POTS Plain Old Telephone System) or ISDN. Connections between modems were set up by calling the remote destination using ATD (Attention Dial) 12345678 (the destination telephone number). The modem connected to each end of the line would interface with the RS-232 or RS-485 ports on the RTU, PLCs or SCADA and once a connection was established data would be exchanged.
Since then, time and technology have moved on and support for legacy dial-up services has been withdrawn or is being withdrawn. The last of the ISDN dial-up services were phased out some years ago and dial-up over GSM (CSD Circuit Switched Data) is rarely available and will shortly be switched off forever. The infrastructure for dial-up lines does not reliably support modem connections any longer. The replacement technology is IP-based broadband over fixed-line or, more commonly, over 4G (LTE), and in the future, 5G.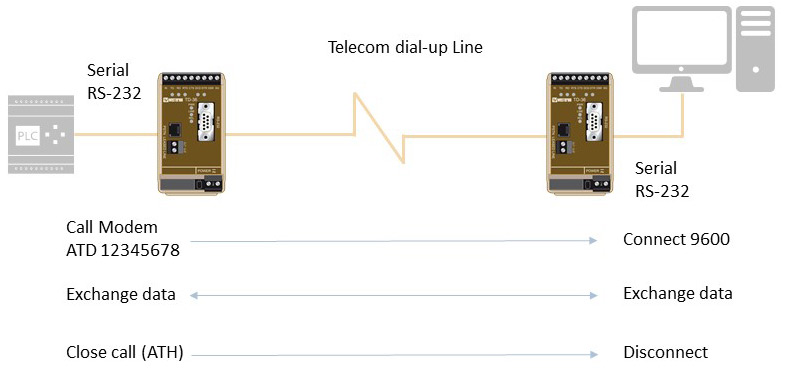 Westermo offer a range of devices that support modem emulations that enable legacy dialup applications to be seamlessly migrated to a broadband alternative technology.
• Remote device will not need any code, configuration, or hardware changes
• ATD modem emulations is faster to connect, reducing scan times on large systems
• Conversations between sites are protected by encrypted VPN (IEC 62443 Data Conduit)
• Futureproof the remote location, when it is time to upgrade the site to full IP connectivity
Westermo broadband routers are equipped with serial ports that emulate the legacy ATD commands for call set up and disconnect. The device connected to the router will not be aware that the media has been exchanged for a broadband router. AT setup strings are evaluated, and the interface is set up to respond the same way a modem would. The ATD1234567 command to dial a number is used to look up the preconfigured IP address and open a TCP socket to the destination IP address. The router at the destination in turn emulates a modem receiving a call. After a connection has been established, which takes milliseconds, data can be passed between the serial ports on the local and remote routers. The serial datagrams can then be exchanged between the serial ports of the routers. The serial legacy device will not require any hardware or software configuration changes and will be completely unaware that the media has changed.
Typically, the routers at either end of the conversation are linked by a VPN (Virtual Private Network). A VPN, in essence, can be seen as a pseudo leased line. The advantage is that the data is encrypted between the two routers regardless of whether the VPN passes over the public Internet or a private network.